Dave Ruel is a well-known author who has made his name famous as a bodybuilding chef. His book, Anabolic Cooking, is a great addition to anyone's library if they're looking to:
Get healthy
Not break the bank
Don't want to eat boring, bland "health foods"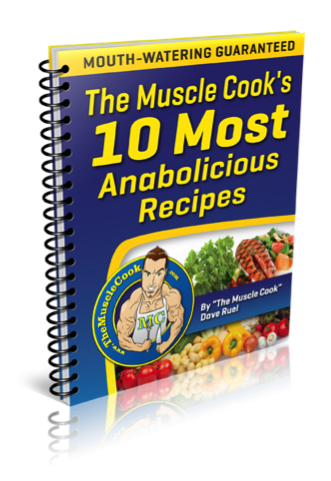 This e-Book teaches people how to create healthy, muscle-building meals that taste GREAT in a quick, and easy manner. The fact is, most of us don't have time to sit around cooking up fancy meals… We barely have time to eat breakfast in the morning, right? If you're like us, you want to be able to go right to the kitchen, whip up a great-tasting, yet healthy meal, and be on your way.
Easy-to-Follow Recipes
Whether you're looking to make yourself a breakfast, lunch, dinner, snack, or dessert – Anabolic Cooking is going to be your ticket! Take a look at some of these ridiculously tasty, yet easy-to-follow recipes straight from the cookbook:
High Protein Pancakes – Makes 1 Serving (6 pancakes)
Ingredients
1/4 cup oatmeal
6 egg whites
1/4 teaspoon of Baking Soda
1 tbsp ground flax
1/2 tbsp cinnamon
1 teaspoon of Splenda
Directions
1. First heat a frying pan until hot and then reduce to medium temperature.
2. After mixing together all the ingredients in a blender, spray some PAM (or other cooking spray), drop by spoonful onto the plan, flipping when bubbles start to form.
3. Make about 6 pancakes.
Nutritional Facts (Per Serving)
Calories: 259
Protein: 30g
Carbohydrates: 26g
Fat: 4g
Pretty easy, isn't it? You'll find over 200 recipes in Anabolic Cooking. Additionally, you'll be able to have access to brand new reports as they become available.
Don't Like It? Get Your Money Back.
At Supplement Journal, we love money-back guarantees. We don't think you should pay for something if you're unsatisfied with it. Period. Dave Ruel believes the same thing, which is why we are willing to back his cookbook 100%. If you find that you're not enjoying the recipes, aren't seeing the results you want, and are unhappy with your purchase, return it for a 100% refund – NO QUESTIONS ASKED! What do you have to lose, right?
The Key to Weight Loss is Your Diet
You can have the best exercise routine… You can take the right supplements… But if you're eating food that gives you zero nutritional value, what's that going to do for you? Absolutely nothing. One of the biggest challenges for anyone looking to get healthy is how to eat correctly. We don't get taught in school how to eat to build muscle. We were taught a food pyramid that makes us load up on starchy breads. Instead, you have the chance to peek right into Dave's kitchen and cook what he and countless other bodybuilders have made in order to lose weight, add muscle, and achieve massive results!
Eating Well Doesn't Have to Break the Bank
One of the common misconceptions about eating clean is that it's expensive. It really doesn't have to be, and Dave's Anabolic Cooking teaches you exactly how to buy food that will burn fat, build muscle, while not costing you an arm and a leg. You'll be able to eat well, get fit, and pay what you were paying before for groceries. How's that for a win?
Don't delay – go check out Anabolic Cooking and get on the road to cooking tasty, muscle-building meals TODAY!