MaxGenics Testosterone Booster Review
Unfortunately for men, after about the age of 25, testosterone production gradually starts to decrease, causing a number of changes in a man's body. His metabolism is slower, his libido may decrease, and he may not have the energy he once had. While proper diet and exercise can help to an extent, supplementing with testosterone boosters seems to be the only effective way for men to truly increase their testosterone levels to their peak levels.
MaxGenics is a fairly new testosterone supplement designed to do just that. According to the manufacturer, this product will rev up your body's natural testosterone production, helping to stop the trend of diminished testosterone levels. Supposedly, they base their formula and company on five principles:
All-natural ingredients
Guaranteed results
Quality customer service
High manufacturing standards
Third party testing to ensure ingredient purity
Maxgenics Ingredients
Maxgenics contains a blend of natural herbal extracts and minerals designed to stimulate the production of testosterone in your body and make improvements on other parts of your health as well. The ingredients include:
Nettle Root Extract: Nettle root extract is used to reduce inflammation, relieve pain and soreness in muscles and joints, and for post-workout recovery. It is also shown to have a very positive effect on prostate health as well.
Tribulus Terrestris: Tribulus terrestris is often touted as a testosterone booster, although evidence is still on preliminary. However, it is also a known libido booster and may support protein synthesis as well.
Muira Puama: Muira Puama is said to improve free testosterone levels in the blood, improve erection quality, and may also support overall sexual health as well.
Bioperine: Bioperine helps the body absorb and utilize nutrients it is ingested with. It essentially turns supplements into "super supplements" by enhancing the body's ability to use more of the ingredients ingested.
Bulbine Natalensis: Bulbine natalensis is native to Southern Africa and studies suggest it may actually be a potent testosterone booster. A recent study found that bulbine natalensis led to a huge spike in testosterone, but the number of participants was very small.
In addition to the five ingredients mentioned above, Maxgenics also contains a few key vitamins such as zinc and Vitamin B12. MaxGenics recommends taking two capsules with food once per day and that you follow a healthy diet and exercise program for the best results.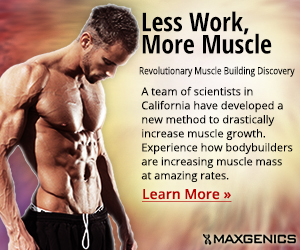 Side Effects of MaxGenics
We've scoured the Internet for user testimonials of Maxgenics and from what we could find, there appear to be little to no side effects. In a few users, there were complaints of upset stomach of nausea during the first few days, although these side effects seemed to disappear and were minor in nature.
Also, Maxgenics may contain some ingredients that act as natural blood thinners, so men taking a blood thinning medication may want to be careful when taking it. It is not recommended that children under the age of 18 try this supplement.
Where to Buy Maxgenics?
MaxGenics is available for purchase directly on the official website of Maxgenics. A one-month supply costs roughly $50 for 60 capsules, which is above average for most testosterone supplements. However, it does appear to give discounts for multiple bottle orders, so you can save some money if you decide to order a few months' supply at once.
Maxgenics – Final Thoughts
Testosterone boosters often contain little information about their formula and ingredients, so it is nice to see a company release the science and formula behind their product. Although it has not necessarily been clinically tested, several ingredients in its' formula have been, so we at least have an idea of whether or not it works.
Is Maxgenics the miracle solution for increasing testosterone levels? – Probably not. However, we have a reasonable amount of confidence that men taking Maxgenics can and will notice an improvement in their testosterone levels and many of the benefits as a result.
Maxgenics offers a money back guarantee on all their orders anyways, so there is definitely no reason not to try this supplement. If you're looking for a testosterone supplement with safe, proven ingredients, then you should absolutely give Maxgenics a try before any other testosterone supplement. You won't be disappointed.