A Review of Trubrain Think Drinks
Trubrain "Think Drinks" are a new form of the popular nootropic supplements sold by the popular supplement company Trubrain. While Trubrain has been around for several years and sold their products in capsule form, they've come up with the world's first nootropic supplement in drink form.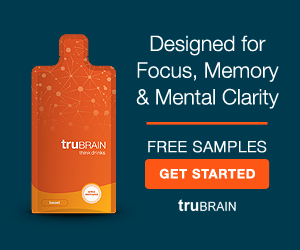 What is Trubrain Drink?
Trubrain Drink is a health supplement designed to enhance the cognitive functions of the brain. It also supports the health of the brain and it provides what is known as "neuroprotection" for the brain. In other words, Trubrain helps to keep the brain safe from oxidative damage.
Trubrain boasts that its' formula was developed by a team of UCLA-trained neuroscientists, which separates Trubrain from other nootropics. After some brief research, it does appear that it is true, which certainly is a good sign heading forward.
Trubrain offers their product in three different forms. There is:
Trubrain Original
Trubrain Caffeine-Free
Trubrain Boost
Trubrain original is the most basic form of Trubrain and the caffeine-free version essentially is the same as original without the caffeine. Boost on the other hand has a slightly different formula with more caffeine and active nootropics to really help you boost your cognitive performance.
Ingredients in Trubrain
There are several ingredients in Trubrain, although they list their active ingredients in pairs, so we'll do the same. The ingredients in Trubrain include:
Oxiracetam/Citicoline: Both of these nootropics are a staple pairing in the nootropic world. Oxiracetam increases how much energy the brain consumes while citicoline is said to feed and sustain energy levels in the brain. This improves focus and concentration.
Caffeine/L-Theanine: This paring is well known for producing a sense of clear focus and relaxation. Caffeine is especially known for promoting alertness and is said to help improve productivity.
Magnesium/Tyrosine: Magnesium is needed for hundreds of internal body processes and tyrosine is an essential amino acid that helps produce neurotransmitters to support brain health.
Carnitine: Carnitine is often used by athletes and it is useful for improving energy and mood. It also supports neural energy as well.
Uridine/Centrophenoxine (Only found in boost): Uridine helps in the production of RNA and Centrophenoxine is a more powerful version of citicoline.
In addition to these ingredients, Trubrain also contains monk fruit, mangosteen, nopal cactus, natural cane sugar, and blue agave for taste.
Benefits of Trubrain
Based on our research of the ingredients in Trubrain, it is clear that there are some real cognitive benefits to taking Trubrain. Some of the cognitive benefits you might experience include:
Improved focus and productivity
Enhanced creativity and thinking
Relaxed mood and stress relief
Enhanced alertness
Improved motivation and motivation
As you can see, these are some valuable benefits from a battle-tested supplement. Few other popular nootropics come close to the cognitive enhancement you can feel from Trubrain, which is arguably why Trubrain is worth its' steep price.
Side Effects of Trubrain Drink
From what we could find, there are very little side effects to taking Trubrain. Some people report experiencing minor headaches but that's really all we could find in terms of side effects.
We also checked the toxicity of Trubrain and found that its' toxicity levels were much lower than other popular nootropics. You'll still want to avoid overusing Trubrain, but we don't there are any major health concerns you need to be aware of.
Where to Buy Trubrain
Trubrain Think Drinks can be purchased directly from the Official Website of Trubrain. You can either purchase Trubrain drinks in packages of 15, 30, or 60 drinks. You can also sign up for a monthly autoship program or you can make a one time purchase. Pricing is as follows:
15 Drinks – $50 Monthly/$60 One-Time
30 Drinks – $85 Monthly/$100 One-Time
60 Drinks – $155 Monthly/$190 One-Time
Final Thoughts
There are a lot of positives to Trubrain and it's backed by real science. Although the price is significantly steeper than other popular nootropics, Trubrain drinks taste great and actually have research to support their claims. If you're new to nootropics or want to try something different than your ordinary capsules, then trying Trubrain is a no-brainer.
Get a FREE sample of TruBrain by clicking the banner below