Le-Vel Product Reviews: An Overview of the THRIVE Brand
Le-Vel is a network marketing company founded by Jason Camper and Paul Gravette, which is focused on bringing health and wellness products to the marketplace. Their primary brand of wellness products, THRIVE, have created an enormous buzz among fitness trainers and medical professionals alike. Le-Vel has developed four distinct wellness products under the THRIVE brand, creating THRIVE M, THRIVE W, THRIVE MW, and THRIVE DFT.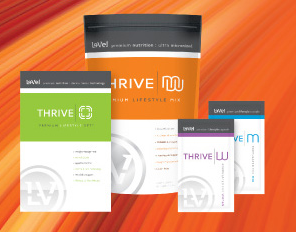 Le-Vel Products and Supplements
Le-Vel also has an additional six THRIVE Plus products, which were created to take results to the next level, for those extra-committed health enthusiasts:
DFT Ultra – all-natural, time-released skin patches which are used for weight management, controlling appetite, and boosting the metabolism
Balance – this digestive supplement was designed to be taken daily in order to help with digestive function, boosting the absorption of nutrients, and helping to fire up the body's metabolism
Activate – This is a drink packet, easily added to a bottle of water or shaker bottle in order to help provide sustained energy, focus, and mental support to get you ready for your workouts
Boost – This is a drink packet that was developed to give you all the greens that you need to promote great health as a probiotic, energy booster, and to create a healthy pH balance
Move – This gel packet is fast-acting to provide support for your joints, to keep them as lubricated as possible, allowing you to stay flexible and inflammation-free!
SGT Rest – A sublingual gel packet, this was developed as a fast-acting, natural sleep aid which promotes calmness, relaxation, and better sleep
The reason that Le-Vel has generated interest not seen in a long time is because of the simplicity in which you can take their products. Not only are people getting a better chance of experiencing better health as a result of taking these supplements, but they are reasonably priced for the value that you can obtain from them.
Our Research: Are Le-Vel Products Worth the Price?
While not the lowest-priced health supplements on the market, the combination of Le-Vel's products make being health really convenient for you. Have you felt tired, lazy, and unmotivated to work out before? We all have… Thankfully, Le-Vel developed Boost which is as easy as pouring a packet of powder into your water bottle. Drink it 30-45 minutes prior to your desired workout time, and voila! You'll feel a nice boost of energy which will help you power through the workout that you were going to procrastinate on before.
Another area that we hear a lot of complaints about is regarding sleep. The studies show that Americans are more exhausted than ever before. You shouldn't have to drag yourself through the day, constantly fueling yourself with sugary Starbucks latte's. Not only are you giving yourself hundreds of extra, empty calories on a daily basis, but you're hurting your health by compensating for your lack of sleep. Instead, get better quality sleep. Some people are able to get by with as little as five hours of sleep, but as you age, getting closer to eight full hours of sleep becomes more vital. Since there are a lot of over-the-counter sleep remedies that may cause a dependency, so why not take a look at an all-natural product like Le-Vel's THRIVE Plus SGT Rest?
Le-Vel's Auto-Ship Program: A Scam or Convenience?
At The Supplement Journal, we aren't huge fans of auto-ship programs, simply because it's often impossible to cancel them! After exploring the back-end of the website for Le-Vel, we saw that not only is it convenient to enroll in auto-ship, it's just as easy to pause your order if you need to. More companies should take note at how Le-Vel operates, because it is definitely consumer-friendly. The benefit of Le-Vel's auto-ship program is the fact that you're able to customize the package that you want to receive on a monthly basis, and you can set it and forget it! Are you going out of town for a couple of weeks? Le-Vel gives you the ability to pause your order conveniently in your Customer Portal. We are BIG fans of how that works!
Conclusion: It Works if You Work
There is no magic solution for weight loss or good health. Simply put, it requires old fashioned hard work, sweat, blood, and sometimes tears. It means pushing the plate away when you're full. It often also means not going for that scoop of ice cream when all of your friends go out for dessert. Nobody said it was easy to have the body of your dreams! Here's the deal, though: Le-Vel offers you a bit of a shortcut. We have found that their products give a much easier, tastier, and convenient way to be able to boost your energy, get the nutrients you need, as well as improve the quality of your sleep. Whether you're a man looking to build additional lean muscle mass, or a woman looking to get rid of that post-baby belly, or you just want to improve your health – Le-Vel designed products with you in mind! If you're willing to put in the work, this superb collection of health and wellness products can help you feel your best sooner.
Please visit Le-Vel's Online Storefront in order to get a closer look at their wellness products. If you are interested in learning how to generate an income from home by promoting Le-Vel to your friends, family, and associates, visit the Le-Vel Opportunity site to join as a Promoter for absolutely no cost!